ON DECEMBER 1 THE 13 DAYS OF CREEPMAS 2018 LAUNCHES
"The 13 Days of Creepmas is an online Celebration of Seasonal Spookiness from December 1 - 13. The idea is to bring a macabre twist to Christmas and the holidays. Get creative and post on your blog, website and social media - share your twisted yule visions with the world and be sure to tag them #Creepmas and/or #MakingCreepmas!"
Click over to How to Participate so you can join the rest of the festive ghouls around the web.
DON'T HAVE A BLOG OR WEBSITE?
Join in on social media by tagging posts #Creepmas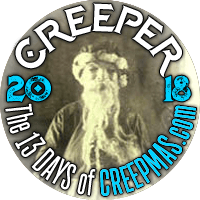 Draw it, paint it, photograph it, sculpt it, photomanipulate it - however you want to do it, each day of the 13 Days of Creepmas (December 1-13) has a different theme. Post your images on your social media accounts with the hashtag #MakingCreepmas